The amazing online magazine with stories about AEGEE's past and present featured one of AEGEE-Dresden's members in a
recent article
. You can read a small passage of it here:
GT: From where to where do you go on your hitchhiking trip?
Daniel: I'm making a circle: Dresden-Krakow-Poprad-Budapest-Bratislava-Vienna-Brno-Katowice-Dresden.
GT: Why did you choose this destination?
Daniel: Checking out central Europe before leaving back to Portugal!
GT: When did you depart this month and when will you arrive?
Daniel: I left on the 22nd and will be back on the 31st – hopefully!
GT: With whom are you travelling?
Daniel: Jura! A Lithuanian girl I met three weeks ago during an Erasmus+ Project in Spain where AEGEE-Dresden participated. We had this crazy idea and just did it!
GT: Tell a story of something interesting, remarkable or exciting that happened during this trip!
Daniel: Well, crossing Slovakia was a real challenge, only locals passing by and taking us bit by bit. There was one guy who took us till the border, who didn't speak a single word of either English, German, Portuguese, French, Spanish, Lithuanian, Russian or Polish – so we were using just our hands to communicate, really interesting! Afterwards we had to cross the border by foot and arrived at our hostel at 1 am, so it was quite an adventure.
GT: How long do you usually have to wait till you get a new ride? And how are the drivers like?
Daniel: I had everything from 3 hours up to a driver stopping before we even tried! The drivers are always really nice people, mostly foreigners though.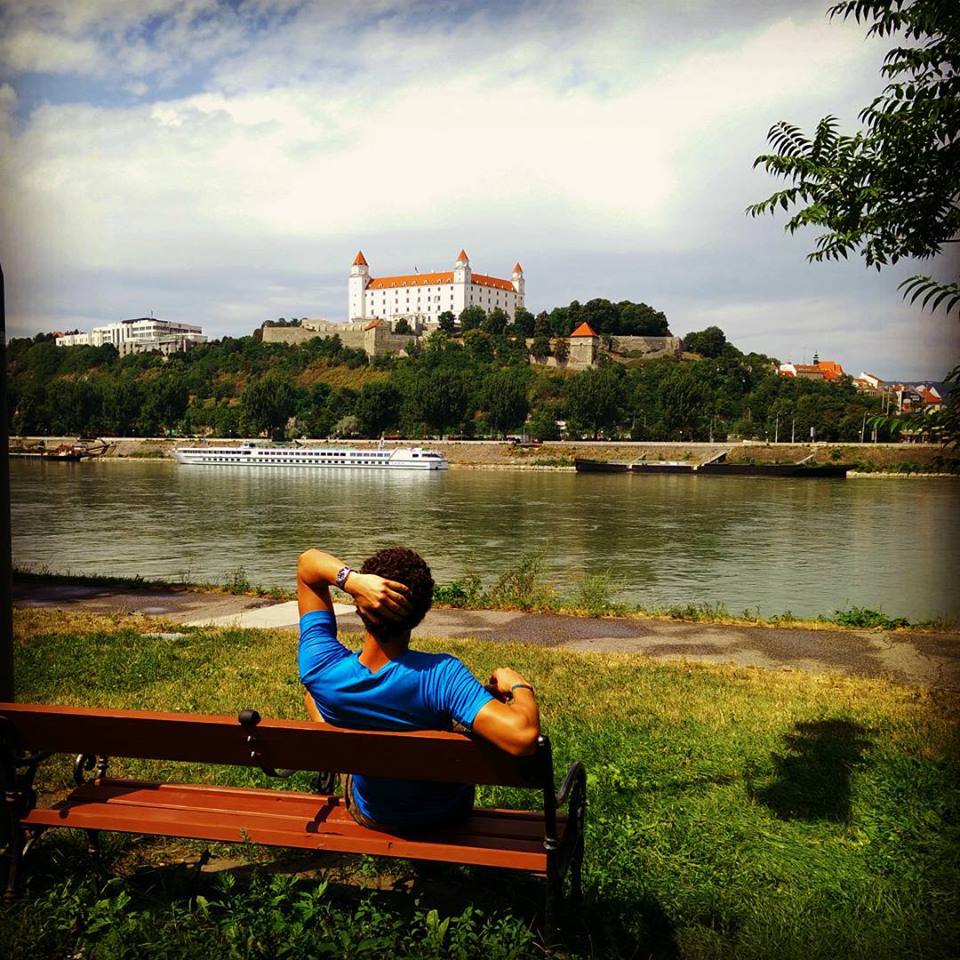 GT: Do you just try to arrive as fast as possible or do you use the chance to stop somewhere and look at the cities and nature?
Daniel: The idea of the trip is seeing central Europe so we always check out the city we stop in.
GT: Do you have a lot of hitchhiking experience?
Daniel: Not at all, it's my first time for a multi-day tour!
GT: You do hitchhiking for the money or the adventure?
Daniel: Definitely the adventure! Sometimes I even think to myself it would be worth way more to take a cheap train than waiting so long, but it's just too much fun and a great challenge.
GT: A few words about you: what's your age, studies, antenna?
Daniel: I'm from awesome AEGEE-Dresden, 21 and studying mostly the Erasmus lifestyle – mixed with a bit of Computer Science.
Read the full article written by Golden Times' Gunnar Erth here.