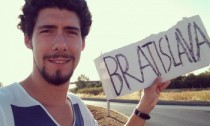 The amazing online magazine with stories about AEGEE's past and present featured one of AEGEE-Dresden's members in a
recent article
. You can read a small passage of it here:
GT: From where to where do you go on your hitchhiking trip?
Daniel: I'm making a circle: Dresden-Krakow-Poprad-Budapest-Bratislava-Vienna-Brno-Katowice-Dresden.
GT: Why did you choose this destination?
Daniel: Checking out central Europe before leaving back to Portugal!
GT: When did you depart this month and when will you arrive?
Daniel: I left on the 22nd and will be back on the 31st – hopefully!
GT: With whom are you travelling?
Daniel: Jura! A Lithuanian girl I met three weeks ago during an Erasmus+ Project in Spain where AEGEE-Dresden participated. We had this crazy idea and just did it!
GT: Tell a ...
mehr...