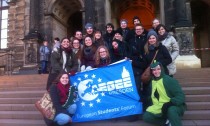 It was second time that the lovely antenna of AEGEE Dresden organized the event
Develop yourself! vol.2
in a little village nearby Dresden. Before we arrived, I did not have any special expectations, because it was the first time taking part in a bigger AEGEE event for me.
This weekend was one of the best in my life. Believe me I am not exaggerating. Why?
First, it was a beautiful silent place, good to come down and get to know the other people fast. The organizers did a great job creating an atmosphere, which made the participants feel welcome and comfortable. We had great food for breakfast, lunch, dinner and all the breaks in-between. They even cooked twice for the ones with allergies and special wishes.
Second for sure the workshops...
mehr...