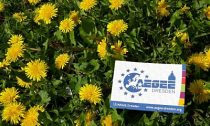 Visitors of Dresden's famous baroque parkway
Großer Garten
got a special view this past Easter Saturday: A large group of young people throwing balls at a meadow. The game of
egg throwing
– a typical German Easter tradition – was part of this year's Buddy Program Easter Brunch we prepared for those taking part in our
Buddy Program
and staying in Dresden over last weekend, the Easter weekend.
The Buddy Program is an initiative of AEGEE-Dresden, bringing together local and international students alike to support international exchange and create a forum for guest students to get to know locals. Therefore international and German students are matched to establish personal contacts, while several events throughout the semester offer an opportunity to connect with the large group – like this year's Easter Brunch.
Around noon the first half of our p...
mehr...