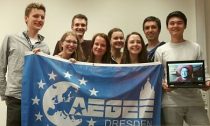 On 9th April 2017 it was once again time for the a general assembly,
Local Agora
, of AEGEE-Dresden. One of our board members moved to Cluj/Romania recently for an Erasmus year and therefore resigned from his position. Honestly we think that
AEGEE-Cluj-Napoca
made him an offer he could not reject. Jan-Philipp is our newest
board member
, he will fulfill his position
External Relations
perfectly.
We wish you all the best for your board term, good success in implementing your plans, and sufficient perseverance. You just got the opportunity to experience a super-awesome time within the next year!

mehr...