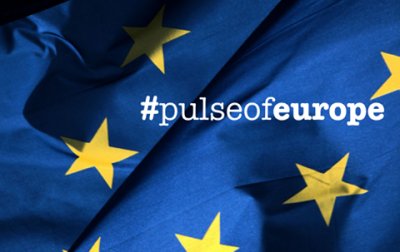 Liebe Freunde von AEGEE-Dresden,
nachdem in den vergangenen zwei Jahre eher betrübliche Nachrichten über Dresden in der nationalen und internationalen Presse zu finden war, sind wir sehr zuversichtlich, dass sich dies ab kommendem Sonntag ändert: Pulse of Europe hat den Weg nach Dresden gefunden!
Die Bewegung will einen Beitrag dazu leisten, dass es auch nach Pegida, nach rechtspopulistischen Bewegungen und Radikalisierungen in der Politik, nach Brexit und Trump weiterhin nur ein Ziel gibt: ein vereintes, demokratisches Europa – ein Europa, in dem die Achtung der Menschenwürde, die Rechtsstaatlichkeit, freiheitliches Denken und Handeln, Toleranz und Respekt selbstverständliche Grundlage des Gemeinwesens sind!
Gegendemonstrationen, die sich gegen Pegida und Rechtspopulisten richteten, haben in der Vergangenheit gute Zeichen gesetzt. Aber mit den pro-europäischen Demonstrationen beginnt eine neue Kraft in der Stadt – eine, die Populisten umso mehr fürchten sollten: Positive Demonstrationen, die für etwas eintreten, die das Konzept eines gemeinsamen und friedlichen Europas verteidigen. Dass man dabei ebenfalls für die europäischen Grundwerte Freiheit, Toleranz, Gleichstellung eintritt, dürfte die Nachricht an die besorgten Bürger noch verstärken. Endlich gehen Menschen wieder für etwas auf die Straße. Ganz gleich, ob man mit der aktuellen EU einverstanden ist – Pulse of Europe zeigt sich da politisch völlig offen und steht ebenfalls für Reformen.
Pulse of Europe ist eine große Bürgerbewegung in vielen Städten Deutschlands und in einigen weiteren Städten Europas. Die Bürgerbewegung eint, dass sich alle Europa-Begeisterten jeweils sonntags um 14 Uhr treffen und für Europa demonstrieren. Jede Demonstration endet mit einer Menschenkette. Nähere Infos können hier gefunden werden.
Am Sonntag, dem 12. März um 14 Uhr findet das erste Treffen in Dresden statt, am Lutherdenkmal auf dem Neumarkt. Es soll Sonntag für Sonntag wiederholt werden, mindestens bis zur Präsidentenwahl in Frankreich am 23. April.
Let's be the Pulse of Europe!