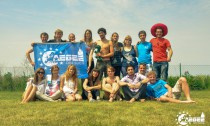 From 4th to 7th of June, a big group of AEGEE-Dresden members followed DresDino, our mascot, to Wrocław. Breslau – that's the german name of the city – has 630,000 inhabitants and is located in the Lower Silesian province in south western Poland, roughly 280 km away from Dresden. What makes Wrocław special is the fact that it is one of the partner cities of Dresden.
On the first day of the exchange we were nicely welcomed with a polish Barbecue and met the great people from Wrocław and some more members from AEGEE-Berlin. All the team building and working on the programme for the subsequent event, our awesome Summer University organized together.
Even better was the fact that we had the opportunity to try som...
mehr...