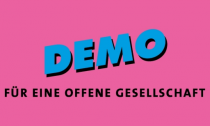 Blunt prejudice, hostility and racism increasingly shape our society. What are you doing to change it? We, as AEGEEans and organizers of the Buddy Program, will participate in the
demonstration
take a stand for an open and modern society (für eine offene Gesellschaft)
of the student council (StuRa) of TU Dresden and take a stand for an open and modern society! Join us and show solidarity with all people affected by racism.
Meeting point for everyone is next Monday, 23rd January, at 18:00 on the big lawn right in front of our office / behind Hörsaalzentrum (HSZ).
The demonstration is organized by the initiative WHAT – wissen, handeln, aktiv teilnehmen. This is their original description:
Wir richten eine Demo aus, damit ihr die Möglichkeit habt, laut und deutlich zu zeigen, da...
mehr...