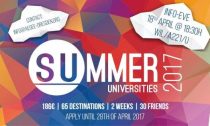 #What? Get to know AEGEE
#When? Info Evening: Tuesday 18th April 2017, 18:30
#Where? Willers-Bau of TU Dresden, Room WIL/A221/U
You are interested in meeting students from all over Europe? You want to work in an international team on projects that touch our life and our future? You want to travel and you want to make your time as a student unforgettable on one of our Summer Universities?

mehr...