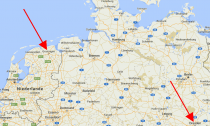 Groningen is the largest city in the north of the Netherlands, as well as the name of the surrounding province. Groningen is a student city and also a city with a big AEGEE-Antenna. Quite regularly they organize hitchhiking races to several cities in Europe, with a cultural program and a lot of going on during the day and night being in the visited city.
Next weekend, 3rd to 5th of June, a group of 16 AEGEEans from AEGEE-Groningen is coming to Dresden. Well, 16 if all of them arrive, otherwise a few less…
What's the plan?
After arriving on Friday and maybe joining us for our regular Ice Cream Test they will sleep the first night at their hosts' places from AEGEE-Dresden...
mehr...