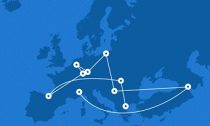 We are happy to announce the hosting antennae of this spring's Network Meetings happening between 30th March and 7th May 2017! You can start thinking about which Network Meeting you want to apply for and make your plans! Be aware that some applications are already open and close quite early this time!
AEGEE-Bamberg, AEGEE-Bilbao, AEGEE-Debrecen, AEGEE-Gdańsk, AEGEE-Heidelberg, AEGEE-Nijmegen, AEGEE-Novi Sad, AEGEE-Thessaloniki, AEGEE-Torino, AEGEE-Yerevan, and the Network Commission are waiting for you in order to build the Network of the future!
Apply now via the portal for European events on the AEGEE intranet!

But w...
mehr...