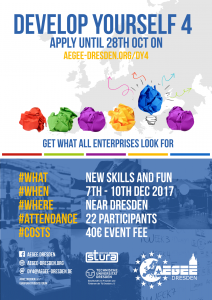 Get what all enterprises look for!
What are the skills you are missing in your daily life? What are companies looking for? And how could you, a potential employee, impress them? Maybe you want to improve in public speaking. Maybe your time management could be better. And maybe you still want to master the right body language while talking in front of a crowd, or gain the self-confidence to improvise in an unknown situation.
Already for the fourth time we offer this special training course to a group of german and european students. You will work in a multicultural team and take part in many workshops to different topics referring to the two focus areas self development and presentation skills, learning about your own borders and possibilities. And of course you can expect a lot of fun and a great social program in the evenings!
The event fee of 40€ will include all meals, the workshops, accommodation with beds and our european trainers.
Unfortunately the application deadline and the training course have already passed. Here you can find out how the 4th edition of Develop Yourself went! However, we will have another edition of Develop Yourself the next year, so stay tuned by subscribing to our facebook page.
If you have any questions, don't hesitate to contact info@aegee-dresden.org