In October 2014, I met BEST (the Board of European Students of Technology) in their Regional Meeting (RM) in Brno for the first time. I had such a good experience as participant that I decided to be part of it once again but this time as a co-organizer. The second week of February, I traveled to Graz, and my first adventure as co-organizer in the BEST Winter Course: "Smart Antennas – Stay Tuned" began.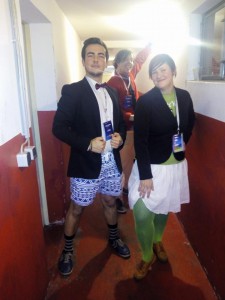 Saturday 7th of February, I arrive to Graz and one of the organizers picks me up. We go to the hostel and get ready for the first party, "Haut Chic Bas Choc" (Top chic, bottom shock) is the topic and of course, AEGEE was ready!
As we arrive to the party, I met BESTies and students from other associations from Austria, Belgium, Bosnia, Croatia, Czech Republic, Estonia, Germany, Great Britain, Greece, Hungary, Italy, Latvia, Macedonia, Poland, Portugal, Romania, Russian Federation, Serbia, Slovenia, Spain, Sweden, Turkey, Ukraine aaaaand Uzbekistan. Such an international group!
As wake up responsible, I got up at 6:30 and brought all the participants to breakfast at the University. On the second day, we had an amazing snow trip. We hiked a mountain, and even though the weather was against us (there was a huge storm) we made it to the top and sledged downhill afterwards in group races – great experience!
Right after the delicious typical Austrian dinner, made by the professor in charge of the courses, the Austrian night began with a nice presentation and fun facts about the country. Delicatessens and traditional austrian sweets and drinks were all over the tables.
Third day of the Winter course began with some get to know games and the official opening at the city hall, which was followed by an amazing city tour by a British guide.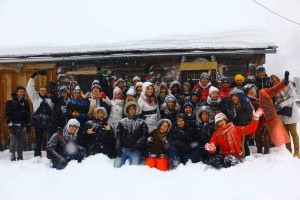 We had a terrific time but we weren't there only for the fun! It was time for the courses to begin…"History + Basic Antenna Concepts" and "Fundamental Antenna Parameters + Auxiliary Functions" where the first sessions of the event.
The following days were filled with intense courses on different topics related to antennas, a case study, and an exam! Yes, an exam. Participants had to take an exam in order to get the 28 hours of lessons recognized, and as all of them passed it, they got a certificate for 1 ECTS. The participants worked very hard everyday to keep up with the courses and the rest of the activities. I've got to say that they did a big effort, since the schedule was quite packed!
The event also had great parties such as an amazing pub crawling, a really good Cantus, black light party and the alumni party. I can't forget to mention the amazing FR done by the LBG Graz. We had Innocent smoothies everyday, amazing job!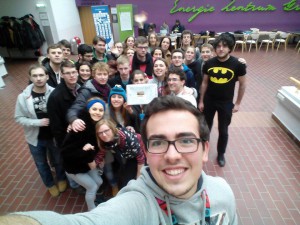 As co-organizer, I felt completely part of the team, and it's nothing new that LBG Graz is very good at welcoming other associations, since 16 out of the 22 participants were not members of BEST, even though some already had had their first BEST experience in the past.
I got the chance to make new friends from all over the world, see how another student association works, learn new activities and strategies, and got many ideas for different events and projects that AEGEE has never seen so far!
My BEST experience was an amazing one, and I really recommend it to every AEGEEan! We have so much to learn from BEST, as they also have many years of experience and traditions. If there is a Local Best Group in your city, I encourage you to contact them and start a project cooperation since it will be very profitable for both associations.
Thanks LBG Graz for opening your arms and welcoming me in your amazing event!
Written by Jorge Sánchez Hernández